"Too small." "Too slow." "Too skinny."..."Too bad!"

Little did his detractors know. After accepting a full four-year scholarship to the University of Pittsburgh, Director Jason Maile would prove the doubters wrong. They didn't realize the quiet kid from Forest City, Pennsylvania was going to end up leading the powerful Big East Conference in 3-point shooting and go on to a successful professional career.

Through a combination of natural ability, hard work and dogged determination, Jason took his game to the next level.
Always a deadly shooter and scorer, he hit the weights, developed his skills, and became a complete player. Just look at some of his accomplishments:
Currently playing in Caserta, Italy in Lega Due

In 2004-2005 played in Calpe, Spain in league L.E.B.

In 2003-2004 returned to Germany's Bundesliga, where he was one of the league leaders in scoring, 3-pt shooting, and foul shooting...and was named Germany's 3-pt Shooting Champion after winning that honor in front of nearly 15,000 spectators during the league's All-Star Day

In 2003 played in the EBA for the Harrisburg Horizons - averaging nearly 30pts/game, shooting 55% from the 3pt line, 94% from the free throw line, and leading the team to its second consecutive EBA Championship

In 2000-2001 played in the elite German Bundesliga - averaging over 12 ppg and helped lead his Braunschweig team to the playoffs

From 1998-2000 p

layed professionally in La Coruna, Spain with Sondeos del Norte where he averaged nearly 15ppg and led the league in 3-pt shooting over those two years

From 1997-1998 played professionally for the North Dakota Wizards currently of the CBA where he recorded a league high 45-pt game versus the St. Paul Slam

Played with and against many current and former NBA players, including Allen Iverson, Vince Carter, Donyell Marshall, Ray Allen, Kerry Kittles, and Richard Hamilton - to name a few.

Led all players in scoring in the Hawaiian Outrigger Hotels Rainbow Classic tournament (Maryland, Michigan, Northwestern) and named to all-tourney team, 1996-97

Led the Big East in 3-point shooting in 1996-97

Scored 40 points vs. nationally ranked Villanova in 1997 - 3rd all-time in Pitt game history

3rd all-time leading 3-point shooter in University of Pittsburgh's school history

Named the Associated Press Pennsylvania Small School High School Player of the Year

One of the leading scorers in Pennsylvania high school history with nearly 2,500 points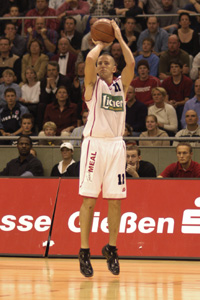 While Jason's accomplishments are many, his clinics are all about you. He says, "I want to take what I have learned from so many great coaches and play
ers, and from teaching at so many camps, and help kids realize their full potential. As a young person, I don't think you realize how good you can be with the right guidance and your own dedication. It's my goal to help every player I teach raise their game to the next level, whether that means making them a better elementary or high school player, or planting the seeds of success for a future college or NBA star."